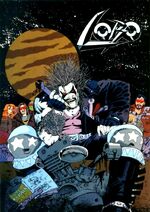 source: http://dc.wikia.com/wiki/Lobo_(New_Earth)
Powers
It is said that Czarnians can only be truly killed by other Czarnians (This does not matter to Lobo either way, as he cannot die by any means.). Furthermore, Lobo has been banned from entering either Heaven and Hell. Lobo can survive unaided in the vacuum of space.
Multilingualism: By his own account, Lobo can speak 17,897 different languages from across the galaxy.[4]
Expert Combatant: Lobo is a proficient hand to hand combatant having mastered numerous forms from all over the galaxy

Strength level
Class 100+; however it varies greatly from writer to writer, even still Lobo is able to easily lift in excess of 100 tons in most interpretations.
Weaknesses
Possesses a fondness for space dolphins which sometimes affects his judgment. Additionally, Lobo's word is the only thing he finds sacred, and will keep his promises, even to his detriment. He is highly susceptible to gas attacks.