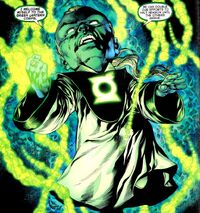 Powers
Blue Energy Manipulation: Once possessing the power to generate and manipulate the green energy of the emotional concept of willpower, Ganthet has evolved to the spectrum of the emotional concept of Hope. He now generates and manipulates the blue energy of that concept.
Cosmic Awareness
Dimensional Manipulation
Energy Absorption
Energy Shield
Force-Field
Light Projection
Invulnerability
Matter Absorption
Phasing
Healing
Teleportation
Hope-Induced Energy Constructs
Siphon Abilities
Siphon Lifeforce
Size Manipulation
Holographic Projection
Genetic Manipulation
Immortality
Telepathy
Astral Projection
Illusion Casting
Technopathy
Telekinesis
Flight
Levitation
Abilities
Genius-Level Intellect
Omni-Lingual
Leadership
Equipment
Green Lantern Power Battery
Weapons
Green Lantern Power Ring: Originally during the Blackest Night, he wielded a copy of Hal Jordan's Power Ring as a deputy Lantern when he activated the procedure to have an individual appointed to each Lantern Corps as a deputy member. At the beginning of the Revolt of the Alpha Lanterns storyline, Ganthet officially creates his own Green Lantern Power Ring when he becomes a permanent member.