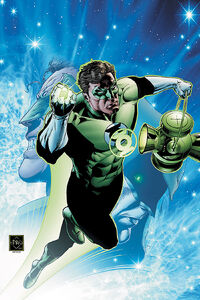 GREEN LANTERN HAL JORDAN CBM FIGHTCLUB STANDING

RANK: 11
# OF FIGHTS: 11

---
WIN/S: 9
| HULK | PUNISHER | GHOST RIDER | WAR MACHINE | ICEMAN | BLACK WIDOW | IRON MAN | ELEKTRA | DRACULA
---
LOSS/ES: 2
| THOR | SILVER SURFER
Abilities
Hal posseses no superhuman powers, but with his Green Lantern Ring , he can do many things that a normal human cannot like fly, create solid light constructs, forcefields, and anything the ring and his imagination will allow him to do.
Indomitable Will
Green Lantern Ring Mastery: Jordan's constructs are among the most powerful. When he creates them, one often witnesses an "afterburner" behind Jordan of all his stray thoughts unconnected to the job at hand.
Skilled Boxer
Expert Pilot
Strength level
Class 100+; while using constructs created by the ring Hal is effectively able to lift/move tremendous weights far heavier than 100 tons with little effort Without the ring Hal possesses the strength of a man his age,height and build who engages in regular exercise making him capable of press lifting at least his own weight.
Equipment
Green Lantern Power Battery
Weapons
Green Lantern Ring