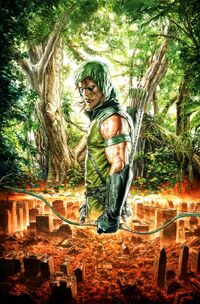 Powers
Oliver Queen's powers, if any, remain unknown. It has been rumored that Green Arrow may in fact be ametahuman. The Department of Extranormal Operations has a classified dossier on Queen, wherein they indicate such a possibility, but as of yet, this information has not been confirmed nor denied.
Abilities
Aviation: He used to own and fly his own airplane called the Arrowplane. He still has some skill in flying different types of planes.
Cooking: Green Arrow's Chili is one of the hottest foods on the planet.
Master Archer: Oliver Queen is perhaps the finest archer ever known. He claims to be able to shoot 29 arrows per minute (he stated this himself, in the Sound of Violence story arc, when he corrected Black Canary for saying 26). He has a wide-variety of trick arrows, ranging from bola arrows to time-bomb arrows to his infamous boxing-glove arrow. In recent years he has used these arrows sparingly, preferring the time-tested simple arrow. Green Arrow has shown the ability to shoot an arrow down the barrel of a gun, pierce a drop of water as it leaves a tap, and shoot almost any part of the human body; although he aims only to wound and not kill when he shoots. He once shot two arrows down two different gun barrels while upside down, in mid-flip while somersaulting off a building.
Master Martial Artist: He is proficient in several forms of hand-to-hand combat including Judo, Kickboxing and Karate. Proclaimed as a martial arts master, he has shown the ability to take on seven people at once. He spent several months dedicated to making himself a better fighter and trained with many of the world's finest martial arts teachers and even went through training from Natas, the same person who trainedDeathstroke
Master Swordsman: Ollie is also very proficient with a sword, though it is not his preferred weapon of choice. He has beaten Jason Todd in a sword-fight and has deflected an incoming arrow with the sword he carries.
Acrobatics: He has displayed on many occasions that he is an expert in acrobatics, and often uses this skill while evading enemy fire.
Strength level
Despite his chronological age, Oliver Queen possesses the strength level of a man ten years his junior, who engages in intensive regular exercise. After his survivalist training in the Marshall Islands, Ollie is now in peak physical condition. Ollie can at least lift up to twice his body-weight enabling him to press 390 lbs. His strength makes him capable of swinging uninjured with a grapple device.
Transportation
Arrowboat (formerly)
Arrowcar (formerly)
Arrowplane (formerly)
Weapons
Custom Bow
Katana
Quiver
Trick Arrows